Planners give go-ahead to £2bn Aberdeenshire New Town
|
Send to friend
April 30 2013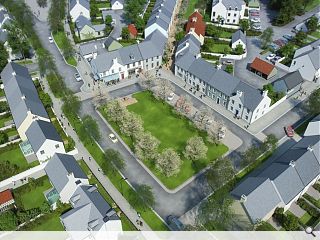 Aberdeenshire Council has given the green light to a £2bn New Town that could ultimately comprise as many as 8,000 homes, clearing the way for work to commence on a first phase of 802 homes and a small High Street.
Chapelton
will be situated 10 miles to the south of Aberdeen on 2,000 acres of farmland the development will incorporate its own town centre and green space spread across seven distinct neighbourhoods.
The developer, Elsick Development Company, claims it will be the largest new settlement in Scotland for a generation and has pledged to create a range of industrial and business spaces in addition to housing.
EDC director Lord Southesk said: "Today's news means we can potentially be on site in the Autumn and it will be very exciting to begin work on this landmark project. We believe that Chapelton will be a major economic boost to the area as well as addressing the need for housing of all types.
"With up to 8,000 homes planned in the long term, as well as schools, community facilities and commercial space, Chapelton is set to become a major new Aberdeenshire community."
Turner & Townsend have been appointed to deliver phase one with Covell Matthews, Benjamin Tindall Architects, Brooks/Murray Architects, Lew Oliver and Marianne Cusato contributing to the design.
Back to April 2013