Lanark Primary School moves on-site
April 30 2013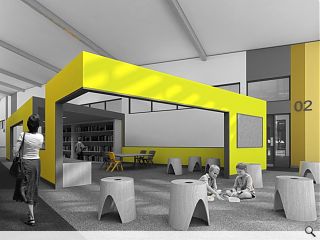 Lanark Primary School, the latest project to be delivered under
South Lanarkshire Council's £800m school construction framework
, has moved on-site.
Designed by Paul Stallan, when he led the Paul Stallan Studio at RMJM, the nine class school is being built on the site of the former school and is bounded to the south by a mature lime tree belt standing opposite a curved elevation wrapping around playgrounds to the rear to provide a secure play environment.
A public elevation to the north acts as a boundary with the main road, housing an internal street which is top lit and naturally ventilated.
Project architect Alan Garland said: "The site itself slopes by six metres from a high point to the south east to a low point to the north west helping to further create an intimate 'cut into external space' that the school directly relates to. The sloping nature of the site provides the opportunity to introduce level changes within the playground that enhance the environment and provide external teaching zones that also allow for disabled access.
"With the external teaching spaces within the woodland, classroom terraces opening out onto a secure play areas and the dynamic internal learning street the teachers have flexible spaces beyond the classroom to develop the new curriculum for excellence requirements. The school also includes a small nursery which further adds to the joy of this project."
Built by the Kier Group using a timber frame construction the school will utilise a bio-mass boiler and benefit from air tight construction; factors which the architects calculate will exceed the carbon reduction for Section 6 in the technical standards by approximately 27%.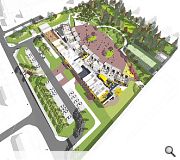 A curved elevation to the south encloses a 'leaf' shaped playground
This diagram shows the old school footprint superimposed upon the new
Back to April 2013