Scottish Design Awards 2013 nominations revealed
April 5 2013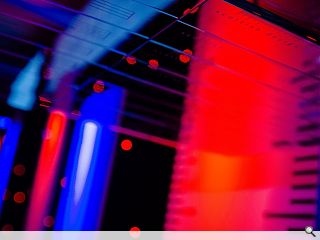 Nominations for the Scottish Design Awards 2013 have been announced, comprising 35 projects ranging from a temporary observation platform to a new cinema and music venue in Lerwick.
Spread across 15 categories this year's competition was judged by Johannes Hoffman, associate at Zaha Hadid; Andy Theobald, partner at Feilden Clegg Bradley Studios; Wood Studio director Peter Wilson and Hendrik Heynes, director at Allies & Morrison.
Amongst the most nominated are NORD and LDN who garnered four nominations apiece - the former courtesy of Wasps South Block, Westbourne Drive and Bridge of Dye Staedings and the latter thanks to Abbotsford Visitor Centre, the Assembly Rooms and the Beacon Arts Centre.
Further information and tickets are available from the
Scottish Design Awards
or by contacting Caity Ryan on 0141 559 6063 or email caity.ryan@carnyx.com.
Nominations by category
:
Lighting
NOMINATION
Company: Nich Smith Lighting Design
Client: Robert Burns Birthplace Museum, The National Trust for Scotland
Title: Alloway Auld Kirk
Interior Design
NOMINATION
Company: 442 Design Ltd
Client: Benugo
Title: The Tea Rooms at Edinburgh Castle (Benugo)
NOMINATION
Company: Nomad RDC
Client: City of Glasgow College
Title: City of Glasgow College Library and Learning Space
NOMINATION
Company: NORD Architecture
Client: Wasps Creative Industries
Title: Wasps South Block
Regeneration
NOMINATION
Company: Oberlanders Architects LLP
Client: Watkin Jones Ltd / CRM Corporate Residential Management Limited
Title: Sugarhouse Close Student Residences
NOMINATION
Company: PAGE \ PARK ARCHITECTS
Client: Clyde Gateway Developments
Title: The Olympia
NOMINATION
Company: NORD ARCHITECTURE
Client: WASPS CREATIVE INDUSTRIES CIC
Title: WASPS SOUTH BLOCK
Residential
NOMINATION
Company: Oliver Chapman Architects
Client: Ms Checkland + Mr Harding
Title: Skerrie House, Anstruther
NOMINATION
Company: NORD ARCHITECTURE
Client: THE GLADSTONE 1987 TRUST
Title: BRIDGE OF DYE STEADINGS
NOMINATION
Company: chambers mcmillan
Client: ian and thea mcmillan
Title: the ramp house
Affordable Housing
NOMINATION
Company: Collective Architecture
Client: Home Group
Title: Great Clifton
NOMINATION
Company: Collective Architecture
Client: Home Group
Title: Florence House
NOMINATION
Company: Collective Architecture
Client: Queens Cross Housing
Title: Garscube estate
Leisure / Culture Building or Project
NOMINATION
Company: Gareth Hoskins Architects Limited
Client: Shetland Arts Development Agency
Title: Mareel - Cinema & Music Venue - Lerwick, Shetland
NOMINATION
Company: LDN Architects LLP
Client: The Greenock Arts Guild
Title: The Beacon Arts Centre, Greenock
NOMINATION
Company: PAGE \ PARK ARCHITECTS
Client: Rosslyn Chapel Trust
Title: Rosslyn Chapel New Visitors Centre and Conservation Project
NOMINATION
Company: Simpson & Brown
Client: The Order of Preachers
Title: The Chapel of St Albert the Great
Education Building or Project
NOMINATION
Company: Reiach and Hall Architects
Client: Forth Valley College of Further and Higher Education
Title: Forth Valley College
NOMINATION
Company: Austin-Smith:Lord LLP
Client: University of Edinburgh
Title: Noreen and Kenneth Murray Library
NOMINATION
Company: Fife Council Property Services
Client: Fife Council Education Service
Title: Dunfermline High School
Public Building
NOMINATION
Company: LDN Architects LLP
Client: The Abbotsford Trust
Title: Abbotsford Visitor Reception Building
NOMINATION
Company: Simpson & Brown
Client: The Order of Preachers
Title: The Chapel of St Albert the Great
NOMINATION
Company: Anderson Bell Christie
Client: Development Coll
Title: An Cridhe
Re-use of a Listed Building
NOMINATION
Company: LDN Architects LLP
Client: The City of Edinburgh Council
Title: The Assembly Rooms, Upgrading and Refurbishment
NOMINATION
Company: GRAS
Client: The Berkeley Clinic
Title: The Berkley Clinic
NOMINATION
Company: Austin-Smith:Lord LLP
Client: Glasgow Building Preservation Trust
Title: Calman Cancer Care Centre, Gartnavel
NOMINATION
Company: @rchitects Scotland
Client: Fasque House Properties
Title: Apple House
Low Cost Project
NOMINATION
Company: Tog Studio
Client: Tog Studio
Title: Tog 2012 Lighthouse
NOMINATION
Company: NORD ARCHITECTURE
Client: PRIVATE
Title: WESTBOURNE DRIVE
NOMINATION
Company: NORD ARCHITECTURE
Client: WASPS CREATIVE INDUSTRIES CIC
Title: WASPS SOUTH BLOCK - ANCHOR TENANT FIT OUTS

Public Realm/Landscaping
NOMINATION
Company: Dress for the Weather
Client: Glasgow Life
Title: Gallowgate Public Artwork
NOMINATION
Company: LUC
Client: Inverclyde Council
Title: Clyde Square, Greenock

Place Making / Master Planning
NOMINATION
Company: erz limited
Client: The David Livingstone Trust
Title: The David Livingstone Centre Masterplan
NOMINATION
Company: Stallan-Brand Architecture and Design Ltd
Client: Speirs Wharf Developments Ltd
Title: Speirs Locks Student Campus Masterplan

Future Buildings
NOMINATION
Company: Ian Springford Architects
Client: Cruden Homes
Title: Redevelopment of St Martin's Church
NOMINATION
Company: Ian Springford Architects
Client: North Ayrshire Council
Title: Bridgegate House, Irvine

Sustainable Design
NOMINATION
Company: Brennan & Wilson Architects
Client: private client
Title: new suburbia - east lothian passive house
NOMINATION
Company: Collective Architecture
Client: Queens Cross Housing
Title: Garscube estate
NOMINATION
Company: LDN Architects LLP
Client: The Abbotsford Trust
Title: Abbotsford Visitor Reception Building

Office Interior
NOMINATION
Company: Nicoll Russell Studios in conjunction with John Robertson Architects
Client: D C Thomson Ltd - Brightsolid
Title: The Glebe, Chapel Place
Back to April 2013