Lews Castle revamp secures funding
April 4 2013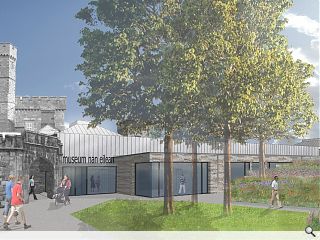 A £14m project to transform the historic
Lews Castle
on the Isle of Lewis is now financially secure after a funding shortfall of £1.8m was bridged by Comhairle nan Eilean Siar courtesy of the European Regional Development Fund.
Malcolm Fraser Architects, in conjunction with conservation specialists Simpson & Brown, are currently on-site of a
hotel within the castle and a new-build Museum of the Isles
in its grounds.
This entails extensive repair and alteration of the historic castle together with partial demolition of an existing boiler house and laundry wing together with various outbuildings to form new gallery space.
Old and new elements will be clearly delineated with courtyard spaces opened up to allow the museum to 'breathe'.
In this way the new-build museum, which will house the Lewis Chessmen, will take the form of a glass and stainless steel building abutting a stone 'garden wall'.
Lews was designed by Charles Wilson in the 1840s as a castellated mansion house for Sir James Matheson.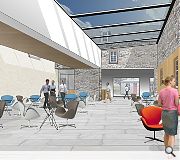 Lews will be used as a base from which to coordinate community heritage work throughout the Outer Hebrides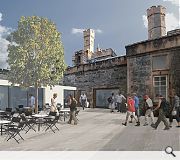 The opulent castle was financed courtesy of vast profits brought in by the Chinese opium trade
Back to April 2013