Demolition progresses on Queen Street eyesore
March 15 2013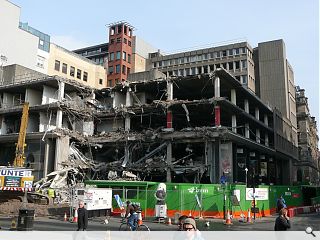 Work to demolish a
rundown 1960's block on Glasgow's Queen Street
is ramping up with removal of the structures concrete cladding panels and arrival of a digger to chew its way through the structural frame.
The destruction heralds the imminent construction of a £70m office block designed by Cooper Cromar which will see 143,000sq/ft of offices (plus 20,000sq/ft of ground floor retail) stacked over eight floors on the prominent corner plot opposite the Gallery of Modern Art.
BAM Construct executive director John Burke said: "As someone who works in Glasgow, I have walked past this building countless times and it is amazingly satisfying to see the final concrete panels being removed and to know building work will soon be starting to transform this unappealing building into something our city can really be proud of."
110 Queen Street is the third largest office block proposed for the city behind
Scottish Power's plan for a 220,000sq/ft HQ
and
Abstract's speculative 170,000sq/ft scheme
directly opposite on St Vincent Street.
Simultaneous demolition work is also currently taking place on the site of the
Odeon
for another 143,000sq/ft office block.
Work on the Queen Street build is expected to commence in August.
Back to March 2013