Design team named for world's largest research facility
March 15 2013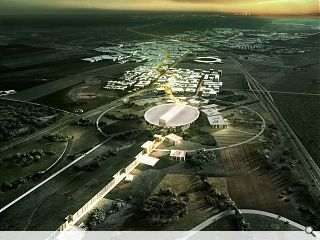 Buro Happold and Henning Larsen Architects have been named as the winning design team for the creation of the world's largest research facility, the European Spallation Source.
Located in the university city of Lund, Sweden, the research campus will undertake advanced neutron based research with a 600m long proton accelerator and 180m long hall in which they will be smashed into targets to release their constituent neutrons.
These can then be measured and analysed by researchers based on site in a series of custom built laboratories, offices and lecture hall within a complex designed to foster social interaction across disciplines and research fields.
Internal atriums within the buildings will provide a clear relationship between indoor and outdoor environments with the landscape used to manage rainwater run-off, pooling it in a series of lakes, bogs and meadows.
Individual buildings have also been modelled in wind tunnels to optimise pedestrian comfort and improve the microclimate.
Back to March 2013