Glasgow seeks to block Braehead 'town centre' status
|
Send to friend
February 22 2013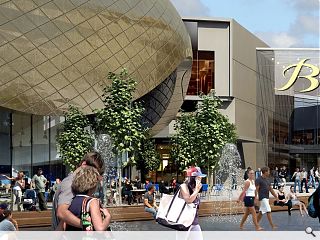 Glasgow is mounting a rear guard action to prevent Braehead being designated with 'town centre' status, a move which could further weaken the position of Glasgow City Centre and Paisley.
Renfrewshire Council is seeking to re-designate the shopping mall as a planning ruse in order to facilitate a
£200m expansion of the centre;
including new shops, leisure facilities, arena, public square, restaurants and a 200 bed hotel
Glasgow argues however that the mall is in fact a commercial centre focussed on retail and leisure as Braehead lacks the diversity and accessibility which defines a proper town centre.
Liz Cameron, city council spokeswoman for regeneration, said: "Significantly, the masterplan does not introduce the civic and community uses found in Glasgow's strategic town centres, including Pollok and Easterhouse, which otherwise resemble Braehead in the respect they include major mall type retail developments.
"It should also be noted the demand context for further retail development at Braehead has yet to be established.
"If Braehead is designated as town centre, it will establish a precedent. This could make it more difficult to resist proposals to redesignate other commercial centres that have a similar mix of retail and commercial leisure use, and could similarly adapt their layout to take on the appearance of a town centre, without the diversity of uses that are a fundamental element of the character of town centres."
Back to February 2013