Carbon Trust Scotland Low Carbon Building Award winners revealed
|
Send to friend
February 22 2013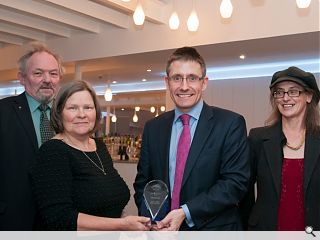 Carbon Trust Scotland in association with Urban Realm has announced the winners of the Low Carbon Building Awards 2013 at an awards dinner in Glasgow.
The annual award recognises those buildings which best embody low carbon and sustainable design principles in both new build and refurbishment categories.
Category winners this year were ea ecological architecture's The Big Shed, an eco-community centre in Aberfeldy which won out in the new build category. They were joined on the winners podium by Page\Park's
Scottish National Portrait Gallery
which took top honour for refurbishment.
In addition to these two winners Austin-Smith:Lord's
Noreen and Kenneth Murray Library
was named as a highly commended finalist in the new build category.
Paul Wedgwood, manager, Carbon Trust Scotland, said: "Our two winning buildings and highly commended finalist not only embody low carbon design principles, but also deliver reduced energy demand and emissions, sustainability and a high quality of occupant experience.
"… all displayed fantastic results that should be held up as exemplary case studies of best practice to show how a building can become more energy efficient, benefiting both the environment and the organisations' bottom line."
Urban Realm editor John Glenday added: "Sustainability as a word trips off the tongue with ready ease but in practice it can be a far more nebulous term to quantify. The Low Carbon Building Awards are the perfect prism though which to view these concepts by drawing together the best exemplars the country has to offer.
"A low key community hall in Perthshire and a nationally significant institution in the heart of the capital couldn't be further apart in terms of budget, function and setting but what they share is a unifying embrace of low carbon principles as the foundation of successful design."
Back to February 2013