Royal Exchange Hotel plans submitted
February 20 2013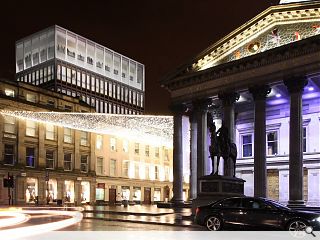 Nord Architecture has
submitted plans
on behalf of Lynnet Leisure Group for the
redevelopment of 5-19 Royal Exchange Square, 1-3 Royal Exchange Court and Springfield Court
to form a £25m retail, leisure and hotel scheme.
Broken down into three key elements this incorporates a street level arcade, a four storey retail and leisure 'plinth' and eight storey 'slab' hotel block containing 96 rooms. This latter element will be crowned by a two storey spa and restaurant complete with a 360 degree external terrace.
New build facades will be finished in white polished precast concrete panels with exposed stone aggregate to reflect the A-listed Royal Exchange Court which will receive a new set of dormer windows.
The aggregate skin is actually load bearing and sits in front of floor to ceiling glazing to provide enhanced weather protection. External horizontal precast concrete beams carry the loads of all internal floor beams and in turn these will rest on piers of precast concrete made from white cement, white sand and marble, and polished to a terrazzo-like finish - a reference to the ceramic brick used in many Glaswegian backcourts.
In their design statement Nord state that the proposal is an opportunity to create a 'complimentary urban block' which would 'enhance the position of the Gallery of Modern Art', by bringing increased 'balance' to its urban environment.
The scheme aims to enhance the quality of public realm around Royal Exchange Court and Springfield Court by banishing by banishing an array of odourful wheelie bins presently strewn around the streetscape into a centralised basement storage and compaction facility.
Nearby plans from Aedas are currently in train to remodel
Charlotte House
to form a 171 bed Travelodge and BAM are currently on site at Cooper Cromar's
110 Queen Street
.
Back to February 2013