NVA detail Cardross 'Invisble College' plan
February 6 2013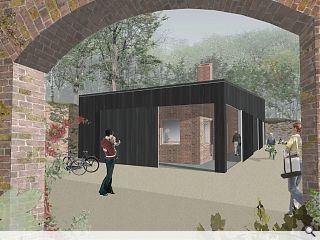 Environmental arts charity NVA has published more details of their ambitious proposals to transform the decaying
St Peter's Seminary
, Cardross, into an 'Invisible College'.
This will entail rehabilitation of the chapel and sanctuary, including its 'ziggurat' rooflight, as a 'raw' space, to dovetail with landscaping work to the surrounding Kilmahew Woods – transforming the area into a tourist attraction and events space.
Described as a 'future field station' the college will constitute part of an international network of learning institutions and play host to a variety of events, exhibitions and interventions in this capacity.
Devised in partnership with Strathclyde, Glasgow and Edinburgh Universities the programme involves input from locals, artists and others organisation of open research days on site and the planting of herbs and vegetables within the walled garden (where a new visitor centre is proposed to be built).
A decision on the planning application is due to be made by the end of March and a capital fundraising campaign is currently underway for the £15m scheme, kick-started by a £500k grant from Historic Scotland.
Avanti Architects and landscape architects ERZ are collaborating on the masterplan with Conisbee and Max Fordham serving as structural and service engineers respectively.
Back to February 2013