Matheson accused of scuppering George Square comp in 'fit of pique'
|
Send to friend
January 27 2013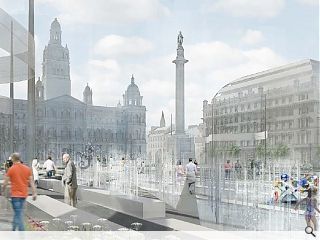 Glasgow City Council leader Gordon Matheson has been accused of tearing up plans to redevelop George Square 'in a fit of pique' after his favoured option was passed over by the judging panel, according to reports in the
Sunday Herald
.
Citing 'two independent council sources' the paper claims Matheson had thrown his weight firmly behind option 6 by Burns & Nice - and was left with his 'head in his hands' when judges opted to plump for John McAslan's option 2 instead.
Rather than concede however Matheson opted to pull the rug out from under everyone by scrapping the competition entirely. favouring a 'facelift' instead.
Costs for the abortive contest have been estimated at close to £100k with a further £250k in costs having been racked up by the six shortlisted design teams – prompting opposition councilors to call for Audit Scotland to investigate.
Speaking to the
BBC's Good Morning Scotland
(1:53) on Saturday former Prospect editor Penny Lewis said: "The main thing is that council's are becoming risk averse, procurement departments have a crisis of confidence and the political leadership are not acting like good clients.
"Historically within local authorities you'd have had very experienced planners and architects who had experience of commissioning buildings over a period of years and who would advise politicians. We had some quite brash, gallus, politicians in Glasgow that were into promoting themselves so you had a degree of ambition that produced some good buildings.
"Now I think we've got exactly the opposite and a certain amount of philistinism operating within the procurement department but also amongst the politicians.
"Glasgow's reputation is tarnished and some people will think twice about bothering with Glasgow competitions in the future because there has been a number of problems. As a profession I think it's demoralising to be in cities where your role and the contribution you make isn't taken seriously."
McAslan, who ostensibly won the contest, will be staging a public meeting at the Scott Monument from 2pm on Monday as part of a drive to force Matheson to reconsider.
Back to January 2013