McAslan vows to build winning George Square design
|
Send to friend
January 22 2013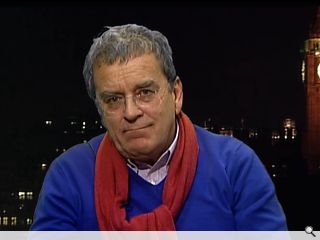 John McAslan,
winner of Glasgow's George Square competition
, has spoken out against the decision to scrap it in an interview on
Newsnight Scotland
saying: "Our scheme wasn't radical, it isn't radical. It really is quite traditional. It keeps the sculpture more or less in the same position, it retains and reworks the landscape and it gets rid of the tarmac so I'm really bemused by the whole thing. It's a really traditional, understated scheme.
"I'm perplexed by councilor Matheson's decision, I've written to him this evening and I've said I'd like to come and see him to talk about it because I'd like us to proceed and develop the project in consultation with the people of Glasgow.
"We're not seeking compensation, we're seeking to build the scheme. That is what we intend to do, we won't give up because there has been a political decision. We will build the scheme, I am determined of it.
Responding on the BBC's
Good Morning Scotland
(1:50) Urban Realm editor John Glenday said: "I share John McAslan's confusion. In his statement yesterday the Council leader said he was listening to the people of Glasgow but this is a belated conversion. The people of Glasgow have been telling the Council for 20 years now that they're unhappy with the state of the square, that they want the red tarmac which is shoddy and ill-befitting of such a prominent space, to be replaced. Yet in that time the council has done nothing to rectify it.
"It was only in September of last year that efforts were made to launch this ill-fated competition. People have to ask why the Council have been wasting their time, our time, the architect's time and the jury's time over the past five months - not to mention however many thousands have been wasted organising the competition.
"Architects need recompense for the efforts they put in. There is this idea which has taken hold in which architects give their time for nothing. That is entirely false. But if the competition is set up that way, and sadly it's not limited to this particular competition, then the architects have no recourse.
"The whole competition was ill-conceived from the very beginning, there was no consultation, it was rushed, done behind closed doors to gear up for the Commonwealth Games which, incidentally, if the Council can't organise the repaving of a square on their own doorstep this year, then it doesn't instill any confidence in their ability to stage a successful Games next year."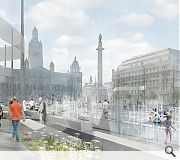 McAslan has described his planned intervention as 'traditional'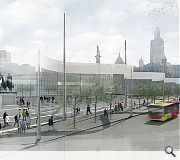 The architect has vowed not to let go of his George Square dream without a fight
Back to January 2013