McAslan & Partners snubbed as George Square contest is scrapped
|
Send to friend
January 21 2013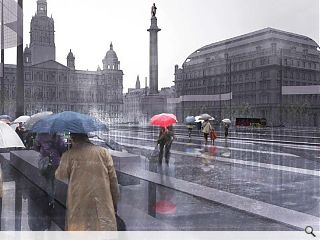 Radical plans to reshape Glasgow's George Square have been scrapped in favour of a simple facelift, scandal hit council leader Gordon Matheson has conceded.
The decision follows the selection of John McAslan & Partners by the jury but vehement opposition from locals has prompted yet another embarrassing u-turn on the part of the council who will not now put that decision before councillors to award the contract.
Instead the Square will retain its current form, including statues and grassed areas with the infamous red tarmac replaced.
Matheson said: "The people of Glasgow have made it clear that they do not want a radical redesign of the square.
"They want the square to look better and be a place of which they can be proud – a place they can while away a sunny afternoon or get together and celebrate the big occasions in the life of the city.
"They also want us to keep the statues where they are, and they like the grass. However, they clearly want rid of the red tarmac.
"I am proud to say that I am listening to them.
"We will carry out this refurbishment work in time for the Commonwealth Games and only if there is public demand thereafter, will we consider a radical change.
"The companies which were asked to produce designs gave us stunning plans, any one of which would have looked fantastic, and I would like to thank the architectural firms involved for their time and hard work. I also want to thank the members of the jury."
The latest GCC design fiasco tops a series of prior blunders; notably the
terminated Glasgow Bridge and aborted Café in the Square competitions
.
Back to January 2013