Alternate jury deliver George Square verdicts
|
Send to friend
January 11 2013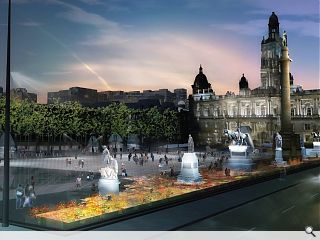 An alternate jury chosen to deliver their verdicts on contentious plans to redevelop George Square have aired their opinions ahead of the
official announcement
set to be taken on 18 January.
Journalist and former independent Glasgow MSP Dorothy-Grace Elder; Roger Wilson, head of Fine Art at the Glasgow School of Art, and Urban Realm editor John Glenday took to STV's Scotland Tonight couch for some late night banter on deified pigeons, urinals and cheesy tartan.
Scheme 1
Elder
: It will be reflecting grey skies here and is an obvious mega centre for floating chip pokes and fag ends.
Glenday
: I'm not sure what the goal is here, I think there is a degree of artisitic license as Dorothy says. For the three days of warm weather a year when people could use the pool it would be fantastic but I'm not sure about the other 362.
Wilson
: I like the idea of a reflective surface but I think this is the wrong one to use.
Scheme 2
Glenday
: I like the striated banding of the light and dark paving, it does lend prominence to the City Chambers as a focal point, although it does seem desolate when the fountains are switched off.
Elder
: It's fine in the sunshine of Barcelona but it's clear that the designers have had hardly any time and it's all been bulldozed through by the Council.
Wilson
: That's true. Running water lends itself to all sorts of difficulty in terms of blocking up. Running water is not a good thing to have in public places in general.
Scheme 3
Glenday
: Poor old Sir Walter Scott there, he's been repositioned, still facing up George Street but it ruins the symmetry of the square, it does look out of place. Some of these might grow on you but I don't think this one would.
Elder
: This is removing famous people at the heart of Scotland. Robert Burns, removed in time for his birthday, James Watt and Thomas Graham, the inventor of dialysis; people who have saved the world in many ways are going to be obliterated from Glasgow – that is disgraceful.
Wilson
: I would add to the statuary rather than reduce it. What you could do is commission 10 more sculptors to create ten more statues, which would be a much better use of space.
Scheme 4
Wilson
: It looks like a still from a 19th century Parisian boulevard or a painting by Monet. It's very odd, I feel totally at odds with it, it doesn't look like Glasgow or the northern hemisphere at all. I don't dislike it.
Elder
: I don't know what the public shelter, urinals or whatever they are, at the end of it are really there for. Come on! That is blocking the old post office building which is beautiful .
Glenday
: It's a seductive image and it introduces greenery with the oak grove which sells it for me.
Scheme 5
Glenday
: It's a bit naff I have to say, I'm not entirely convinced by the Glasgow City tartan but its an interesting composition, corralling the statues together in that circular feature. It could work.
Wilson
: I like the collection of statues and as I say I would add to them. You're right; I think the tartan design is slightly cheesy.
Elder
: The tartan will be appreciated by the pigeons from a great height. It's preferable because some of the statues will be saved, although we don't know who will be saved.
Scheme 6
Glenday
: It's got the most greenery of any of the schemes so I think the public will gravitate towards this. I like how it extrapolates the square out into the surrounding streets – a key aspect for any scheme to address.
Elder
: Don't like it. It's going to block the public from protesting about anything but then nobody's been allowed to protest properly about these plans the way it's been bulldozed through. It's a bit too much like a swastika from the air.
Wilson
: I think this is one of the designs which only works if you 're deified. A deified pigeon.
Back to January 2013