George Square battle lines drawn
|
Send to friend
January 10 2013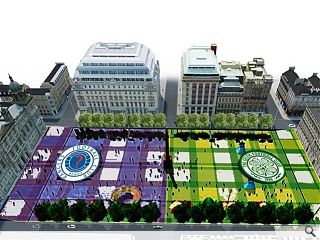 A
square off amongst six teams
aiming to transform Glasgow's premiere civic space is gathering a head of steam as the public debate over the merits (or lack thereof) amongst the six shortlisted schemes are aired.
Speaking on Scotland Today last night George Square goers weren't shy from passing judgement with one branding a tartan carpet proposal as 'cheesy'.
The 'people driven' approach of scheme four drew the attention of more passers-by however, who warmed to a seductive image of a wintery George Square on an iPad - whilst navigating a maze of heras fencing, temporary stands, workmen, works traffic, mobile cranes, pock marked asphalt, portacabins and giant wheelie bins.
The full report can be viewed below:
Back to January 2013