George Square exhibition opens to the public
January 9 2013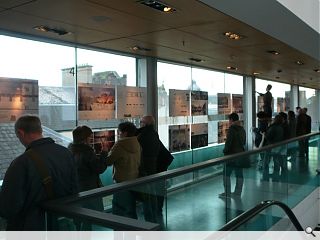 An exhibition of
six shortlisted schemes
,drawn from an international design competition to re-imagine George Square, has opened to the public at the Lighthouse.
A judging panel comprising David Mackay, MBM Architects Barcelona and Professor Andy McMillan, former head of Mackintosh School of Architecture, Glasgow School of Art will announce the winner of the £15m competition on 18 January.
The six shortlisted teams are John McAslan, Gustafson porter, JM Architects, James Corner Field Operations, Burns + Nice and Agence Ter.
The second entrant
takes the form of a field of Caithness stone striated by white bands to frame the Cenotaph and Scott Memorial. An art overlay embedded within the paving seeks to capture the 'essence' of the square by recognising historical patterns.
Perimeter oak tree planting serves to extend Buchanan Street to the Square coupled with increased pavement widths and reduced traffic lanes to the north and south. A programmable 'light ribbon' can be output from a series of new lighting columns.
Scheme four
seeks to extend the impact and presence of the square beyond its current limits through the removal of traffic from its east and west sides. This is coupled with an extension of the car free surface on Buchanan Street through to Montrose Street.
The square itself takes the form of a white granite carpet, excavated to a series of level plateaus. Sitting within a dark grey Caithness stone and granite frame with a SUDS system below to deal with surface water run-off.
Stand out features include an island of Scots Pine and a grove of Oak whilst a new loggia cast from white concrete houses existing statues within a Glaswegian weather proof enclosure.
A single large central events space can accommodate an ice rink and concerts and is configurable to host a temporary water feature when not in use.
Design one
is described as a 'mirror in the depth of flowery statues' maintaining the 200 year tradition of statuary with a grove and gallery space.
Mirroring, both figuratively and literally, the Glasgow grid the scheme is dominated by a shallow surface of water, suspended parabolic bells, reactive lighting, sound and echo effects which are activated by the movement of people. Building facades can also be turned into 'graphic equalisers' to denote special occasions.
Square number three
incorporates a range of art forms along its southerly edge, a plinth which accommodates a café canopy, light masts and fountain platform. North and east sides are also stepped plinths of Corremic, Kenmay and Whin granite and will entail repositioning of the Sir Walter Scott statue to be visible from George Street.
One half of the civic space will be focussed on civic events, fairs and festivals with the remainder accommodating daily activities.
Submission five
aims to unify civig gatherings to the west and daily uses to the east with a number of key elements such as a Monument grove ( a curated ensemble of monuments and pedestals surrounded by a circular ramp), café pavilion and mirror pavilion, an area of 2mm deep water stones which can be easily traversed.
The body of the new square adopts an interwoven pattern of Caithness stone drawn from the Glasgow city tartan and light masts along north and south aspects and a field of scultural stones to the south complete the picture.
Entry six
adopts a palette of Caithness stone, white and black granite and includes a shelter to provide a shelter, rendezvous and social place along the key north/south pedestrian route. Views out to the city chambers and a central water feature are prioritised whilst a glass roof ensures the sky and stars are also visible..
The 'green square' has been devised as a contemporary reinterpretation of the historic square and is based on a green square concept.
Back to January 2013