Glasgow City Chambers overhaul plans aired
January 8 2013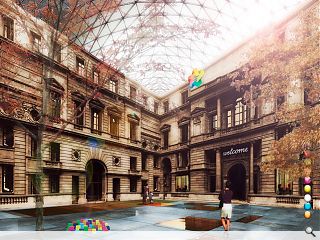 Ahead of the expected unveiling of
six shortlisted schemes to refurbish Glasgow's George Square tomorrow
one local practice has come forward with ideas of their own to remodel the City Chambers as an intrinsic part of any new Square.
Stallan-Brand propose removal of the road fronting the City Chambers together with relocation of the Cenotaph to the opposite side of the square. This would serve to open up access to the Chambers building itself, principally a central dingy courtyard which would be re-imagined as a new British Museum style public space for civic events and receptions
Paul Stallan, design director of Stallan-Brand, said: "Our studio believes that the George Square design initiative should include the City Chambers.
"It is the City Chambers building that could do the most to change the Squares dynamic. The Chambers building is a truly magnificent building that is effectively closed to the general public. There are tours of the building at certain times but the building could do so much more for the citizens of Glasgow.
"Glasgow's local government is modern and ambitious but lacks an environment to communicate this to its public. Glasgow could have a new forum space like the remodeled Berlin Reichstag, the Louvre in Paris or the Great Court in London to showcase to visitors.
"We have imagined in the spirit of open and dynamic local Government that George Square is seen as an extension of its city's very own 'parliament'."
The plans represent pure blue-sky thinking from the practice and are not currently penciled in for implementation but council leader Gordon Mathieson, who has been kept informed of the ideas behind it, is said to have responded positively.
Shortlisted George Square designs will be placed on public display at the Lighthouse from 14 January.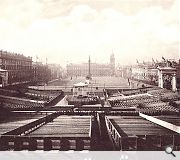 Stallan-Brand's plans entail returning the Square's front aspect to something more akin to its original layout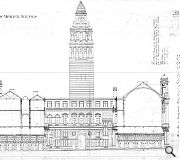 The Victorian city chambers are in need of an upgrade
Back to January 2013