Leisure plans submitted for Edinburgh Odeon
December 19 2012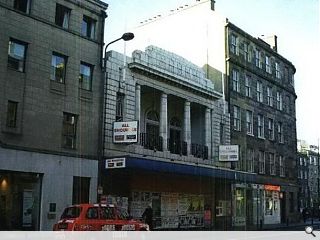 Duddingston House Properties, has
submitted tentative plans to transform a derelict former Odeon Cinema on Edinburgh's Clerk Street into a leisure and entertainment complex
, just months after selling a similar former Odeon property in Glasgow.
The Instant Arena plan follows
abandoned efforts to transform the venue into a hotel
and would entail refurbishing the main art deco auditorium into a space into a venue for cabaret alongside the addition of a champagne bar, restaurant and coffee lounge.
It would also see two ground floor theatres would be retained for screenings of events, game shows, talent competitions and concerts, whilst an old stage house to the rear would be demolished to make way for student accommodation.
Historic Scotland upgraded the former cinema, currently on the Buildings at Risk Register, to A listed status in April.
Previous plans stalled over requests to gut the cinema, raising hopes that this latest plan could break a decade long deadlock.
Back to December 2012