University of Glasgow detail Stevenson Building plans
December 18 2012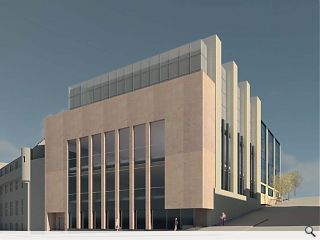 The University of Glasgow has published fresh detail on its
plans to resurrect its flea bitten Hive nightclub
as a £13.4m mixed-use sports and leisure hub - following expiry of its lease at the Kelvin Hall Sports Centre.
The new-look Stevenson Hive building will be built on the site of the existing Hive nightclub on Gibson Street and interconnect with the existing B-listed GUU and Stevenson buildings, to form a combined sports and leisure hub.
Alterations to both existing buildings to facilitate full integration of a new sports hall, cardiovascular suite and weights training area have been budgeted as part of the works.
Designed by ECD Architects, with input from Page\Park architects, the new-build will be built out to the established building line on Kelvin Way and will rise to five storeys in height whilst retaining an independent main door on Gibson Street.
Rising from a stone plinth the new block sports large openings to offer unimpeded views in and out whilst vertical 'chimneys' have been incorporated to maintain the rhythm of neighbouring tenements and the clock tower of
JM Architects Hillhead Primary
.
Soft landscaping work to Gibson Street will entail tree planting, yew hedging boxes together with ornamental grasses to frame new ashlar stone paving and public seating.
Demolition of the existing Hive building is expected to commence in March 2013 with construction of the new build following in September for an anticipated 12 month build programme.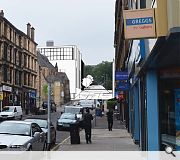 Public realm improvements are planned for Gibson Street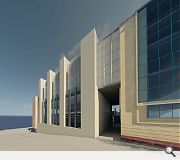 Strong vertical elements are intended to tie the development in with neighbouring properties
Back to December 2012