National Museum plaza plan to go before planners
December 17 2012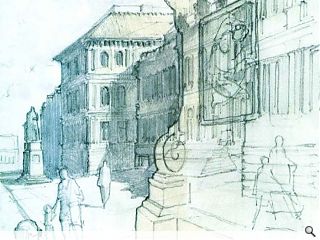 Plans to remodel Edinburgh's Chambers Street into a new public performance space in front of the National Museum of Scotland could get the go-ahead this week when
presented to planners
.
The scheme has been drawn up by Gareth Hoskins Architects, the practice behind the
Museum's recent remodeling
, on behalf of Edinburgh University and will entail repaving an area of on-street parking with Caithness stone to form an outdoor stage for theatre and music.
A new statue commemorating architect William Playfair has been commissioned to overlook the space, alongside the relocated statue of William Chambers.
This will result in the loss of 39 parking bays although disabled parking will remain in-situ and shifting an existing bus stance forward to the new street line.
Future phases of work could see this public realm extended eastward to unify the Museum and University Old College within the streetscape.
Museum director Gordon Rintoul said: "All major cities have a quality public realm and what this proposal will do is vastly improve Chambers Street for the benefit of the public and will make for a far better setting for the NMS. In other major European cities, a building like ours would always have a public presence out the front. What this plan amounts to is the creation of a new square – a focal point for the area and the city."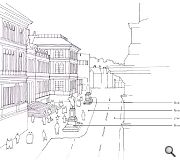 Chambers and Playfair will face off across the new public space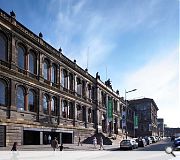 Priority is currently given to the car on Chambers Street
Back to December 2012