Radical St Andrew's home overhaul unveiled
December 17 2012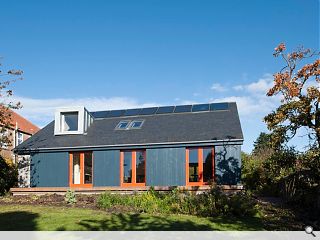 Zone Architects have unveiled a radical overhaul of a tired 1970s property in St Andrews, transmogrifying a generic pebble dash bungalow into a home more befitting of its advantageous position in the University town.
Tasked with overhauling its drab exterior, access and dingy, cellular, living areas the architects have employed timber cladding to reference fishermen's storage huts at the harbour and orange windows in deference to pre-twentieth century preferences for colour (when white paint was not readily available).
A new dormer window has also been inserted in the attic space is skewed to frame views of Gregory's Pillar, a monument marking the end of the meridian line invented by James Gregory, the first professor of maths at St Andrews University in the 17th century.
In a statement Zone said of the scheme: "The house straddles the back gardens or 'lang riggs' to two terraced houses on one of St
Andrew's main streets, South Street. It was built to a standard Betts design with little or no acknowledgment to its location, orientation or the spacious garden surrounding it. "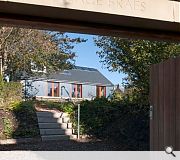 An awkward side door providing garden access has been replaced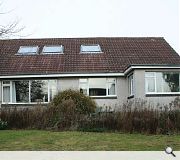 The original dingy 1970s home is now unrecognisable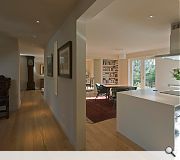 Walls have been knocked through to create open plan living areas
Back to December 2012