Homestead Foundation submit Owenstown plans
November 29 2012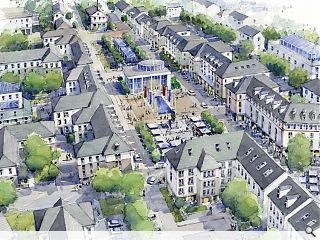 Plans to build a huge New Town in South Lanarkshire have been submitted by the Hometown Foundation, a charity which has devised a 10 year masterplan
Owenstown has been masterplanned by Optimised Environments and envisages the construction of some 3,200 homes in the Douglas Valley, near Lanark, on a 2,000 acre plot adjacent to the village of Rigside.
Named after Robert Owen, driving force behind New Lanark, the plans were first hatched some three years ago but have only now been submitted following an extended consultation period.
The Hometown Foundation claims that their scheme will engender a co-operative community with waste recycled on site and a district heating system.
Detractors point out however that the scheme fails to support (and indeed may adversely impact upon) existing settlements, with some planners describing Owenstown as a '
second rate development opportunity wrapped up in marketing speak
."
Back to November 2012