Paisley tenements face demolition
November 19 2012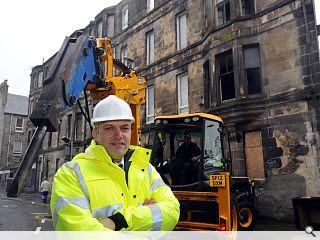 A derelict tenement block on Paisley's Incle Street is facing demolition after Renfrewshire Council secured ownership of the homes.
Work to clear the plot, a prominent town centre site adjacent to the former Arnotts store, will commence in the next fortnight and is expected to conclude by December after it was branded an 'eyesore' by the Council..
It will then lie vacant awaiting possible future redevelopment in the 'medium term' alongside the adjoining department store, which is itself being marketed for re-use.
Mark Macmillan, leader of Renfrewshire Council, said: "The council has worked for years to take over this building and I am delighted we have now succeeded
"First and foremost, we want to remove an eyesore that blights the main road and rail routes into Paisley. Demolishing the building will improve the environment of the town centre.
"It will also open up a prime location for potential residential or business development."
Back to November 2012