McCarthy & Stone tasks architects with overhauling retirement home design
November 14 2012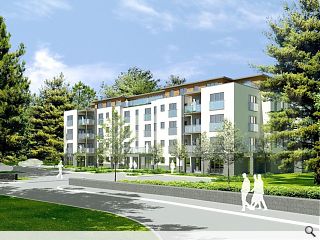 Retirement developer McCarthy & Stone has launched a design competition to find creative designs for housing specifically geared to cater for those aged 55 and over.
The developer has teamed up with the RIBA to run the competition in a bid to produce properties most likely to appeal to the baby boomer generation.
The
British Open Design Competition
is tasking entrants to conceive of retirement accommodation that goes beyond that which is currently available and places greater emphasis on the needs of residents.
It follows projections from the Future Homes Commission that an additional 300,000 homes need to be built in the UK year-on-year and predictions from the Office of National Statistics that the over 65's will account for 23% of the population by 2035.
Steve Wiseman, regional managing director from McCarthy & Stone in Scotland, explained "Baby boomers see themselves very much as the generation that broke all the boundaries and that is exactly what we are asking architects to do when considering what would be the ideal type of housing for these kinds of forward thinking people.
"We really want design professionals in Scotland to challenge their pre-conceptions of what age means and create solutions which celebrate the wisdom and freedom that the aging process should encompass.
"It is our belief that downsizing into a purpose-built property in later life can open up doors to enjoying a greater way of living, and with this competition we are hoping to show just how great that life could be."
Architects are invited to submit design proposals for a site at Bishops Waltham, Hampshire, with a guideline cost per square foot of £110. McCarthy & Stone have pledged to deliver the winning design.
McCarthy & Stone have secured planning permission for developments in
Aberdeen
,
Glasgow
and
Edinburgh
.
Back to November 2012