British team think big with audacious Shenyang bid
November 14 2012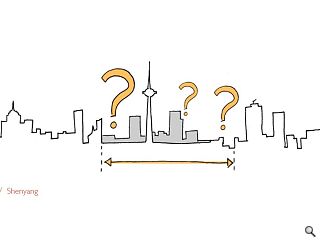 Alan Dunlop Architect, John Thompson & Partners and Gillespies have submitted a joint bid for the design of a high-rise, mixed-use project in Shenyang, China.
The brief for Shenyang New District from the local government stipulates provision of a number of 450m high residential towers in addition to large commercial and hotel elements.
Shenyang is China's joint fourth largest city, with a population of 11m, although its growth rate has lagged behind the likes of Beijing and Shanghai due to an ageing population and ongoing transition from heavy industry toward a consumer economy.
Promoted by the local government as a means to counteract these disadvantages, the project aims to attract young people by reinvigorating a prime plot of land in the commercial heart of the city, overlooked by a landmark 305m TV tower.
To this end the team intend to focus on the spaces between towers to create a vibrant streetscape in addition to a vibrant skyline, although no detailed plans have yet been drawn up.
Dunlop said: "Admittedly our group does not have many of those (400m towers) but our bid looks very strong. JTP Architects and Gillespies have an international reputation for excellence in urban design and landscape and it has encouraged me to think I too have enough in my own portfolio of past work, awards and experience to make a serious bid for projects in China".
Back to November 2012