Hazelwood School's international importance recognised
November 12 2012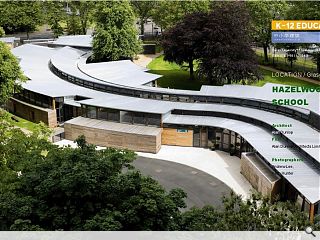 Hazelwood School, a special needs school in Glasgow designed by Alan Dunlop, has been named as one of the 29 best schools and educational projects in the world in a new publication.
K-12 Educational Architecture International is published by Dalian University of Technology Press and features a range of plans, hand drawings, sections and photographs of the school.
Dunlop said: "This is a great new book of new schools worldwide……….. comprehensive, full colour images, sections construction details and plans, very high production quality. Hard to lift, though."
A range of international architects from as far afield as the USA and Japan were selected for inclusion in the tome, including Kazumi Kudo and Arquitectonica.
Back to November 2012