Aberdeen emergency care centre completes
November 8 2012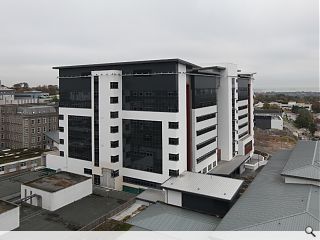 Construction work has completed on one of the largest emergency care centres in Europe, a £110m facility at Forresterhill for NHS Grampian which will brings emergency and unscheduled care services together under one roof and 350 inpatient beds.
Built by Robertson and designed by Mackie Ramsay Taylor, the project has taken three years to bring to fruition and employs an innovative system of hundreds of service modules to deliver mains services such as water, electricity and waste disposal and air conditioning.
These were pre-fitted to modular frames which incorporated plasterboard partition elements above the ceiling to negate the need to employ tradesmen on site, a first for the UK on this scale.
Andrew Cowan, Robertson Group CEO, said: "I am delighted that we have handed over the new Emergency Care Centre on time and within budget to NHS Grampian. This was a challenging project that involved tight deadlines in a live hospital setting.
An internal fit out is now underway with occupation scheduled for December. The final phase of the project, which entails demolition of an existing A&E department and construction of a new entrance foyer, will commence in January.
Robertson has also been awarded a £21m contract to develop two adjacent hospital buildings housing inpatient facilities and operating theatres, due to commence on site in December and complete in August 2014.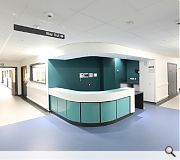 The building incorporates 10 floors, each the size of a football pitch
Back to November 2012