Low Carbon Building Awards 2013 open for entries
|
Send to friend
October 11 2012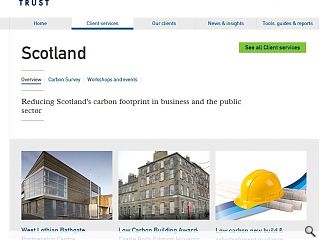 The Carbon Trust Scotland, in association with media partner Urban Realm, is now inviting entries for the Low Carbon Building Awards 2013.
Established in order to recognise the successful implementation of low carbon design principles in the commercial sector, the awards recognise the full range of building projects, both new-build and refurbishment.
Judges will be looking for schemes which not only embody low carbon principles, but which also deliver reduced energy demand and emissions, sustainability and a high quality occupant experience.
Entries can be submitted via the
Carbon Trust Scotland website
and will be judged on a range of criteria that encompass project management arrangements; procurement processes; design features; sustainability of the construction process; quality of occupant experience; as well as the cost of the build/refurbishment and ongoing usage.
Paul Wedgwood, general manager, Carbon Trust Scotland, said: "Having opened up our Low Carbon Building Awards to refurbished properties in the last couple of years we've received some really interesting entries. I have no doubt that with two categories open for entries again in 2013, we will be in for an exciting competition.
"There have been a number of innovative builds and refurbishments taking place in Scotland over the last two years, especially as technology and the understanding of low carbon deliverables has developed. I'm really looking forward to seeing what properties are put forward for our 2013 awards."
Last year's event
saw awards given to the Bathgate Partnership Centre for best new build and the Pleasance Upgrade project for best refurbishment. The University of St Andrews was also named as a highly commended finalist in the new-build category for its biomedical sciences annex.
All entries must be commercial in nature and commissioned or delivered in Scotland since January 2011.
Application forms can be downloaded directly from the Carbon Trust
and additional information can be obtained by emailing lowcarbon@smarts.co.uk.
Nominations close on 14 December.
Back to October 2012