Carbuncle award nominations sought
|
Send to friend
October 9 2012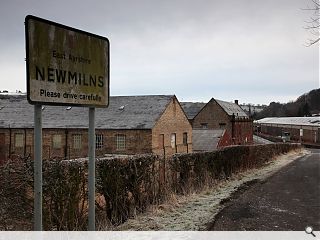 Urban Realm is putting Scotland's towns under the spotlight once more with the launch of its annual
Carbuncle Awards
, the awards scheme which recognises the most dismal places and spaces.
Nominations received thus far include Newmilns (Ayrshire), Leslie (Fife) and Broxburn (Edinburgh), places which harbour a variety of ills ranging from the collapse of the lace industry, an open cast quarry and 'dreary' shops. We think there are worse out there however and that's why we're calling for nominations from residents, commuters and tourists with tales of their own forgotten spaces to add to our list of nominations so that a shortlist can be drawn up in the New Year.
Of course it's easy to carp about what has gone wrong but much harder to implement genuine reform; that is why Urban Realm will be campaigning for discrepancies in the application of the VAT rate between new build (0%)and refurbishment (20%), as well as amending leasehold legislation to make it more economic for tenants to purchase and renovate abandoned properties.
Urban Realm editor John Glenday said: "Our towns are under greater pressure than ever before, suffering continued dissipation of resources and fragmentation of once close knit communities. From flagging retail, to an exodus of the young and a planning and legal system that often seems perversely designed to throttle rather than nurture.
"The Carbuncle Awards are an antidote to this insidious decline which has hit our towns since the onset of recession in 2008 acting as a doorstop for decay and a springboard for future prosperity."
The 2012-13 award winners will be revealed in March.
Image taken by
Mark Chalmers
.
Back to October 2012