Scotland + Venice Critical Dialogues conclude
September 13 2012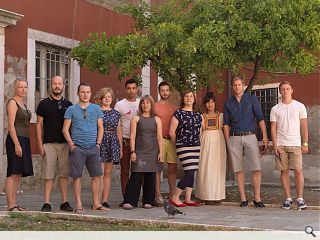 Critical Dialogues, a week long contribution to the Venice Biennale
showcasing Scottish design talent
, has drawn to a conclusion following the clear up of a raucous closing party.
This evening reception saw each exhibiting practice; Do Architecture, GRAS design studio, Stone Opera and Pidgin Perfect, showcase a sample of their work for organisers, stakeholders and members of the public.
Intended to stimulate community involvement in marginalised spaces this takes on a very different character to the work of top architects and designers at the bi-annual bash.
Project teams have now packed up and returned to Scotland where it is hoped that the projects might be continued in some form – everyone and everything that is except one of Do-Architecture's red balloons which slipped its tether and was lost to the skies above the Italian city.
A summary of the weeks proceedings can be read on
Stuart Falconers blog
.
Back to September 2012