Campaigners pull the turf from under Portobello High School
September 12 2012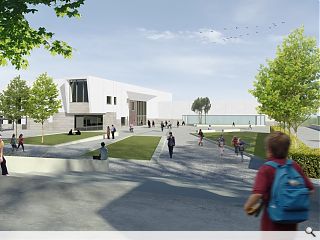 Plans to build a new £41m High School in Edinburgh are in disarray after campaigners won an appeal against the scheme.
Approved by councillors in February last year
Portobello High School would have been built on a field at Portobello Park, replace existing outdated facilities built in the 1960s.
Campaigners successfully argued at the Court of Session however that this was common good land, thus automatically precluding any construction on the site.
Designed by JM Architects the school was conceived so as to minimise impact on surrounding parkland and had been scheduled for completion in January 2014.
Alison Connelly, a spokeswoman for PPAG, said: "The court's decision makes it clear that councils do not have the power to appropriate land such as Portobello Park, what's known as 'common good land', to use for purposes other than recreation.
"The proposal to build on Portobello Park has split people in and around Portobello and we appeal to the whole community now to pull together and urge the council to build a new high school at an alternative site."
Reacting to the news Tom Ballantine, vice chair of Portobello High School Parents council, called it a 'sad day' for the Portobello community, adding that it was 'too early to know where this will go next.'
Back to September 2012