Kraft dust off BRE Ravenscraig Research Centre
September 7 2012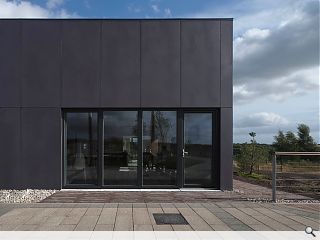 Kraft Architecture has completed work on the BRE Research Centre at the Ravenscraig Innovation Park - achieving one of the highest UK scores for a net zero carbon building in the process.
Acting as a visitor centre for the '
community of the future
' it will also double as a research hub for monitoring building performance and renewables on each of nine exemplar houses to be built on the site.
Pre-fabricated using CCG's modular iQ system from homegrown timber, the structure is clad in reconstituted stone rainscreen with cross laminate timber walls.
Novel features of the build, which helped it earn a BREEAM 'Outstanding' accreditation, include a phase change ceiling to assist with cooling and a whole building mechanical ventilation heat recovery system.
Bruce Newlands, Kraft Director said: "This will hopefully demonstrate that homegrown timber can be used successfully for light industrial and commercial applications when used alongside other technologies, we hope that the building can act as a catalyst for others to build innovative housing solutions on the rest of the site"
The development will be arranged around a central landscaped water feature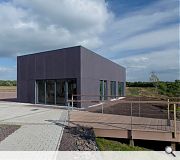 The visitor centre was delivered on the back of just four lorries
Back to September 2012