Participants arrive in Venice as Biennale gets underway
September 5 2012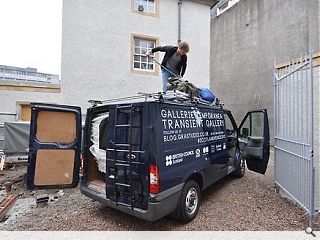 Venice Biennale participants have arrived for this year's event, flooding into the Italian city to showcase their projects and explore innovative ways of engaging with people and places.
Amongst their number this year are four Glaswegian practices; Do Architecture, GRAS design studio, Stone Opera and Pidgin Perfect, who have been tasked with showcasing Scottish talent to an international audience.
They will do so under the theme of Critical Dialogues which will employ
alternative methods such as a helium balloon and cardboard blocks
to engage with Venetians.
Cabinet Secretary for Culture and External Affairs Fiona Hyslop said: "The Biennale offers the ideal platform to highlight the work of four practices and their creative approach to architecture. The architects will be engaging with people and places across Venice in surprising and inventive ways, demonstrating Scottish creativity on an international stage during 2012, our Year of Creative Scotland."
Jonathan Charley of Strathclyde University, project director for Critical Dialogues, said: "Critical Dialogues very much reflects a multi and inter-disciplinary tradition, and in this sense the four projects on show in the Biennale are very much new twists on old tales; a mesh of complementary narratives whose origins can be traced back through the 20th century. The project explores the social role of architecture, and the assertion that the architect should first and foremost be a social agent, whose job it is to facilitate and improve the quality of the built environment."
The event will run throughout the first week of September with
GRAS's Stuart Falconer blogging from Venice for Urban Realm
.
Back to September 2012