Islands based designers dominate Saltire Housing Awards
September 4 2012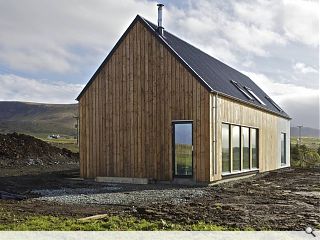 The Saltire Society has announced the winners of their 75th Saltire Housing Awards with designers hailing from the Highlands and Islands emerging as the nights big winners.
Leading the pack were Dualchas who picked up the Saltire Medal for House at Boreraig and Kirk House whilst their Skye compatriots at Rural Design scooped the Innovation in Housing Award with R.House.
Shetland Islands based Richard Gibson Architects meanwhile scored a double whammy with two Lerwick projects. De Vadill scooped the small scale housing award and Grodians received a commendation in the large scale housing category,
A total of 14 projects were given an award,
out of field of 29 shortlisted works
, by a team of jurors chaired by Dick Cannon. A further four were acknowledged with commendations.
Cannon said: "… we are fortunate this year to have a significant number of outstanding projects confirming that design quality - committed to the intelligent use of energy and resources - remains exceptionally high in Scotland.
"The medal this year has been awarded not to a building, but to a practice for two exceptional projects. These represent the work of a studio taking on relatively modest projects and going full tilt to push the boundary of their own skill and to enrich the lives of their clients."
The awards list in full:
Large Scale Housing Development
- Westfield Avenue, Edinburgh (7N Architects with Make Architects)
Small Scale Housing Development
- Da Vadill, Grantfield, Lerwick, Shetland (Richard Gibson Architects Ltd)
- Fore Street, Whiteinch & Scotstoun, Glasgow (Hypostyle Architects)
Private Dwelling – New Build
- House in Boreraig, Duirinish, Isle of Skye (Dualchas Architects)
- The Edge, Sandyhills, Dumfries & Galloway (Carole Naylor & John Chesbrough)
- The 'Model D' House, Insch, Aberdeenshire (Gokay Deveci Chartered Architect)
Alterations, Renovations and Extensions
- Kirk House, Garve, Ross-shire (Dualchas Architects)
- Ackling Cook Bothy, Ettrick Valley (Reiach and Hall Architects)
- Wormit Extension, Wormit, Fife (WT Architecture)
- Cape Cove, Shore Road, Helensburgh (Cameron Webster Architects)
- Ledcameroch Road, Bearsden (Studio KAP)
- 4 Linsiadar, Uig, Isle of Lewis (Studio KAP)
- Bogbain Mill, Loch Ussie (Rural Design)
- House in Roslin, Chapel Loan, Roslin (Reiach and Hall Architects)
2012 Saltire Medal: Dualchas Architects, Isle of Skye.
2012 Innovation in Housing Award: R-House, Drynoch, Isle of Skye (Rural Design)
Commended:
Large Scale Housing Development
- Grödians, Quoys, Lerwick (Hjaltland Housing Association)
- Park View, 7-21 Golspie Street, Glasgow (DO Architecture)
Private Dwelling - New Build
- Marlaw, Sprinkell Avenue, Pollockshields (Gareth Hoskins Architects)
- Promenade House, Musselburgh (Wiszniewski Thomson Architects)
Back to September 2012