Aberdeen City Gardens loses out in knife-edge vote
August 22 2012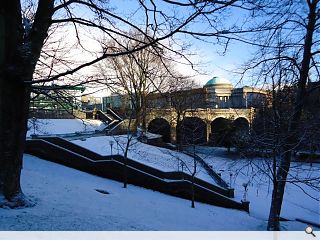 Plans to undertake an ambitious remodelling of Aberdeen's Union Terrace Gardens, valued at £140m, have been thrown out by councillors by 22 votes to 20.
The vote saw Aberdeen's political spectrum cleave down the middle with SNP and Conservative councillors backing the plans, whilst their Labour and Lib Dem colleagues vetoed it.
Mike Shepherd, chairman of Friends of Union Terrace Gardens, said: "There is no doubt that our councillors made the correct decision. This is the end of the City Garden Project debacle.
"Union Terrace Gardens is at the heart of our city. Let's nurture them with the care and attention they deserve. We can restore them to a place of pride and glory. Let's go ahead and do it."
Gardens Timeline
Jun 2008
Peacock Visual Arts reveal culture centre plans
Nov 2008
Wood pledges £50m toward alternative plan
Apr 2010
Defeated by 55% in a public consultation
May 2010
Approved 20-7 by councillors
Jan 2012
Diller Scofidio & Renfro and Keppie win design competition
Mar 2012
Approved in referendum by 45,301 votes to 41,175
Aug 2012 Rejected 22-20 by councillors
Back to August 2012