'Hideous' Ben Lawers visitor centre demolished
August 6 2012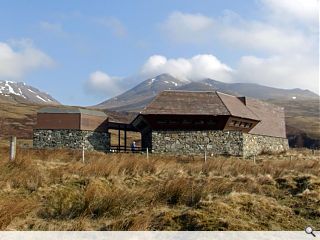 Work to demolish Ben Lawers Visitor Centre, described as a 'hideous beast' by The Courier, has been completed by the National Trust for Scotland ahead of the reopening of Ben Lawers Nature Reserve tomorrow.
The
centre
, built in 1972, was located on the slopes of Scotland's 10th tallest mountain to raise awareness of protected rare plants which grew in the vicinity.
Detractors contended that its mere presence endangered this pristine landscape as hordes of tourists tramped their way through to make use of its toilets and a cafeteria.
Replacing the centre will be a series of information boards designed to ensure visitors continue to be informed about their surroundings.
Additional work to preserve the mountain landscape includes the construction of new fencing, pathways and a relocation of the car park.
Ben Lawers property manager Helen Cole said: "We have access to the hills at all times and that is part of the founding remit the trust – access and conservation.
"There are potential conflicts between access and conservation. The majority of visitors are hillwalkers and most of them stick to the main routes to bag their summits."
Back to August 2012