BRE visitor centre nears completion
August 6 2012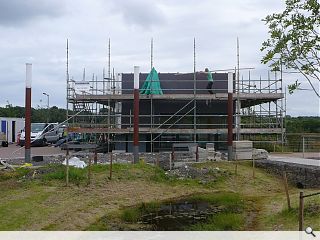 A visitor centre at BRE's Ravenscraig innovation park is nearing completion, the first phase in a wider masterplan to envision a 'community of the future'.
Built by CCG's modular iQ system and designed by Kraft Architects the pavilion was delivered to site in just four lorry deliveries and is currently being fitted out internally.
Accommodating a meeting area, kitchen and reception it will serve as a first port of call for visitors whilst acting as a hub of information and monitoring of homes in the Park.
It will eventually sit at the head of a development of nine showpiece homes, arranged around a central landscaped water feature, each intended to demonstrate the latest sustainable technologies and construction techniques.
Amongst these is a plot to be built in conjunction with Motherwell College who will use the design as a real world aid to teaching in their construction curriculum, updating the home each year to reflect the latest thinking.
Project leader David Kelly said: "In keeping with all innovative, high performance buildings the actual performance of the structure will be the real test of the design and manufacturing process. The building will be monitored through post-occupancy evaluation over a period of two years."
The visitor will be officially inaugurated by the First Minister in September.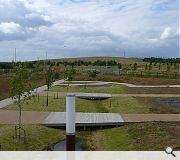 A load bearing roof could be opened up to visitors when financing allows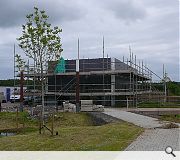 Project architect Bruce Newlands insisted on gluing dark grey, fibre cement board panels to the structure rather than screwing them in
Back to August 2012