Clyde Fastlink moves into slow lane
July 18 2012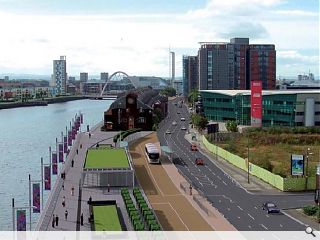 A long heralded dedicated bus route along the banks of the river Clyde won't enter service until after the Commonwealth Games have concluded in 2014, after Transport Scotland revealed that the scheme isn't likely to complete until at least 2015.
First mooted back in 2007 the plan would have seen construction of 31 halts along both north and south banks of the river, stretching from the city centre to Renfrew on the south side and Clydebank to the north.
These would each be connected by a dedicated roadway along which would run a fleet of 'enhanced' buses in time for the Commonwealth Games in 2014.
Now however the route will merely form a "component" of transport plan for athletes, officials and spectators - who will instead largely rely on a fleet of regular buses and coaches running on existing roads.
An SPT spokesman said: "SPT and its partners are in the process of providing the infrastructure for Fastlink which will first be used as a component of the Glasgow 2014 Commonwealth Games transport strategy."
A spokesman for Transport Scotland added: "The Fastlink routes will use enhanced buses with exterior and interior standards equivalent to a tram.
"The type of transport that will run on the Fastlink infrastructure during the Commonwealth Games is still under consideration.
"It is expected that the Fastlink route will be used either as part of the Games Route Network to shuttle athletes and officials to the SECC or as a route for Spectator Shuttles from the city centre."
Back to July 2012