George Square public consultation launched
July 9 2012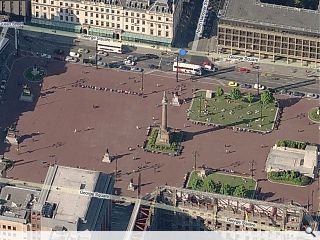 Glasgow City Council, keen to atone for past slights, have launched a public consultation for George Square in a bid to transform the central meeting space into something more befitting of its stature.
Making the announcement Council leader Gordon Matheson stated his administration has assembled a £15m pot to rectify past mistakes; including application of low quality red asphalt and a loss of greenery.
To achieve this Matheson is receptive to almost any ideas, excluding any repositioning of the Cenotaph, including installation of a fountain, removing parking and extending the Square into surrounding streets.
Running throughout the summer the consultation will be open to all square stakeholders as well as design professionals to inform a formal design brief.
This would then form the basis of an international competition with the winning design announced as early as the end of the year.
Construction work could then begin by mid 2013 with a hiatus for the Commonwealth Games period.
Speaking to the Evening Times Matheson said: "I want to give the people of Glasgow the square they deserve so I am beginning a public consultation on a generational revamp of George Square.
"For this to succeed, the people of Glasgow need to feel they have been involved in the process and I would not dream of embarking on it without their involvement."
GCC have poor form when staging design competitions, having previously backed out of the
Glasgow Bridge and Café in the Square competitions in 2006
.
Back to July 2012