Invergowrie Primary approved
July 6 2012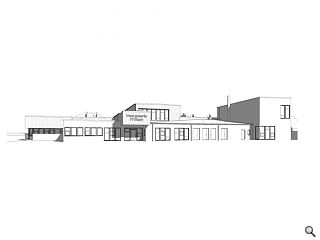 Perth and Kinross Council have granted approval for the construction of a new Invergowrie Primary School, adjacent to the C listed existing school which will be retained for community use.
Designed in-house the £8m school will be built on existing playing fields and entail demolition of dilapidated outbuildings and appropriation of adjacent farmland.
Its seven classrooms will play host to 283 pupils and will include a library, meeting room, dining hall and studio – all of which will be made available for community use.
A green roof will, budget permitting, enhance the building and compensate for the loss of green space whilst primary elevations will be soft wood cladding and render.
In their design statement P&KC noted: "Given the large footprint of the building, it is obvious that the development cannot emulate the vernacular of the existing school and other similar buildings in the locality.
"Instead, the contemporary nature of the building is to be celebrated with an architectural language which matches the most up to date user demands. Large areas of glazing, internal open plan and connectivity inform an elemental architectural expression which aims to be refined, simple, robust and contemporary."
Back to July 2012