Revised Chapelton of Elsick plans published
June 25 2012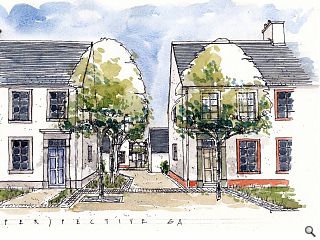 Revised plans for the first phase of a £1bn new town south of Aberdeen have been placed on public display, including new housing designs and improved transport links.
Drafted by Elsick Development Company the changes have been brought about on the back of a community consultation involving around 5,000 people.
Phase one of Andres Duany's 8,000 home new town master plan, which will incorporate school, industrial and business functions, consists of some 802 houses and
is currently pending a decision from Aberdeenshire Council
.
Chapelton is being sold as a return to community-based living in a pedestrian friendly, mixed use environment on a sprawling 2,000 acre rural site.
Lord Southesk, director of EDC, said: "... there have been several important issues which we have been asked to review over the last year and we have been working hard to address these concerns. This process has resulted in several amendments to the scheme and additional supporting technical, environmental and design information."
Architects who have contributed to the Charrette and post-Charrette work include local and national firms, such as Covell Matthews, Benjamin Tindall Architects, Brooks/Murray Architects, Lew Oliver and Marianne Cusato.
Construction of the first phase is scheduled to start in the spring of 2013.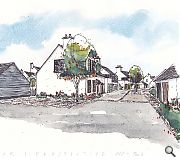 Construction of the first phase is scheduled to start in the spring of 2013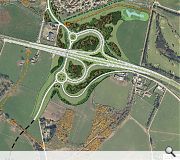 Fairhurst will massively re-engineer Bourtree Bush junction to accommodate the anticipated growth in traffic
Back to June 2012