BDP win international Bispebjerg Hospital competition
June 25 2012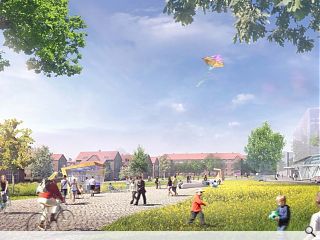 BDP have been named as the winners of an international master plan competition for the new Bispebjerg Hospital site in Copenhagen, Denmark.
The submission entails dividing the existing site into four quadrants incorporating; general hospital services, psychiatric sector, an administration, research and laboratory space and a central park.
This 'green heart' will serve as a central gathering point for staff, patients and visitors prior to dispersal to specific hospital areas.
Working in partnership with Danish architects TKT and Ramboll Denmark the team will maintain existing listed pavilions and gardens.
A one way road system and centralised parking have also been employed to minimise traffic disruption.
Lars Gaardhøj, chairman of the project's political reference group, said: "An important part of the task was to establish settings for the new hospital, which respect the heritage-listed pavilions by Martin Nyrop. This challenge has been solved by ensuring distance to the old buildings, thereby creating space for many green areas. This honors the natural scenic Bispebjerg, as we know it today."
The construction phase is expected to last from 2014 to 2025 and has been budgeted at around £430m.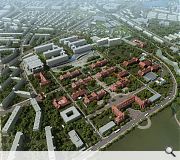 The project entails 121k sq/m of new build and 96k sq/m of renovation work
Back to June 2012