Tennents raise a glass to great Scottish towns
May 29 2012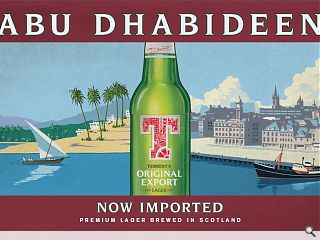 Lager brand Tennents are taking inspiration from Scottish architecture and places for their latest advertising campaign, a pun-tastic cross country jaunt depicted through a series of postcards from Aberdeen to Airdrie.
Glamorous and not so glamorous locales have been chosen for the eclectic campaign; with classic architecture ranging from the Forth Rail Bridge to Charles Rennie Mackintosh designs and the Armadillo all being incorporated into the brands classic 'T' logo.
Accompanying a new television advert will be a poster campaign with depictions of Aberdeen, Airdrie, Barrhead, Hilltown and Leith.
Created by ad agency Newhaven and Stirling based illustrator Steven Bonner these marry exotic locales to unlikely Scottish namesakes via watercolour art, transmogrifying them into Abu-dhabideen, Buenos Airdrie, Zanzibarrhead, Beverly Hilltown and The Great Barrier Leith.
Back to May 2012