VIDEO: Fiona Hyslop launches architecture and placemaking policy consultation
May 29 2012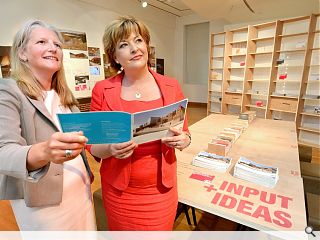 Culture secretary Fiona Hyslop has this morning launched a consultation on Scotland's new
architecture and placemaking policy
.
This saw 140 architects, planners and other built environment professionals assemble within the Lighthouse's doocot to discuss four key themes during a two day International Design Summit.
These are: supporting sustainable economic growth; shaping Scotland's future; embedding built environment design into wider policy agendas and ensuring public and private sector buy in plus recognising the cultural value of architecture, urbanism and heritage.
Addressing the industry Hyslop said: "With our architecture and design industry generating around £1.3bn each year for our economy, and construction output in Scotland last year valued at an estimated £11bn, the economic benefits are clear.
"Well designed buildings and places have a vital role to play in our society. They strengthen our communities – improving well-being and enriching lives – helping people and business to flourish and fulfil their potential. Our historic built environment enhances our understanding and appreciation of our surroundings and contributes to our sense of national identity.
"We want to encourage the creation of buildings and places with which people can identify. This consultation on our new architecture and placemaking policy will, quite literally, shape Scotland's future. It is an opportunity to build a better world and I urge everyone to have their say."
The consultation will run until September 7 in tandem with Input and Ideas: Rethinking Scotland's Policy on Architecture and Place; a public exhibition curated by Architecture and Design Scotland.
Opening tomorrow this is intended to act as a platform for the public to become informed and involved in the consultation - by presenting the most groundbreaking work to complete in Scotland over the past 10 years alongside a section dedicated to the ideas, projects and priorities of built environment professionals.
A section will also be dedicated to the ideas, priorities and questions generated by members of the public.
A+DS's chair, Karen Anderson said: "Architecture affects everyone – it can make the places and spaces we work, live and play beautiful and functional and it can also help grow our economy and improve our lives. By shaping our places architecture also says who we are as a nation. Architecture and placemaking can help us address the economic, social and environmental challenges we face in Scotland."
A truncated version of Hyslop's opening remarks can be viewed below:
Back to May 2012