Linwood High School students give their take on Carbuncle Award
May 24 2012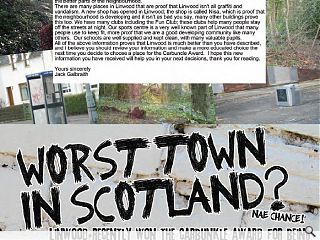 Back in December of last year Linwood became the fifth town in Scotland to receive the dubious distinction of being crowned the nation's worst. At the time we said Linwood's plight was "
simply too great to ignore
" following a tour of Linwood Shopping Centre, then likened to a warzone.
Since then
Tesco have progressed long dormant plans to demolish the eyesore
and now local students at Linwood High School have chipped in with three open letters to Urban Realm in their school magazine,
The Forest
, to highlight the
community spirit and sense of pride which exists there
.
One author, Jack Galbraith, wrote: "There are many places in Linwood that are proof that Linwood isn't all graffiti and vandalism. A new shop has opened in Linwood; the shop is called Nisa, which is proof that the neighbourhood is developing and isn't as bad as you say. "
Galbraith was joined by Evan Thompson, who ventured: "Although Linwood got the Carbuncle Award for being the most dismal town in Scotland that doesn't mean to say that the people are bad. I know there are some neds running around vandalising things and hurting people but everyone else is willing to help Linwood and restore it."
Lastly, Jody Docherty noted: "Linwood is a great town filled with amazing people. Some have done amazing things. This Carbuncle Award is not the only thing we have won. Linwood has won many great awards whether it is from local clubs, schools or just from the whole of Linwood coming together."
As a catalyst for change The Carbuncle Awards can galvanise both residents and the powers that be like little else - and with Linwood now firmly on the path to recovery this spirit should ensure that the totemic Play-Doh Plook never returns to the town mantelpiece.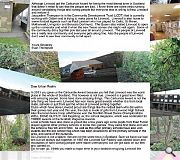 A spirited defence of Linwood has been mounted by local schoolchildren
Back to May 2012