Fears for construction sector following fresh collapse
May 15 2012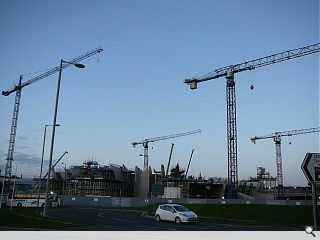 Construction union UCATT has claimed that an average of one construction firm is being forced to close down every month in the wake of the most recent collapse, that of UBC Group.
The dire prognosis comes against a backdrop of 4.8% decline in output in the first quarter of 2012 and an estimated 30,000 job losses since 2008.
This has largely been brought about by a collapse in the housing sector which remains at a standstill although large scale public works programmes remain
Harry Frew, regional secretary of UCATT Scotland, warned that many construction staff are becoming taxi drivers and security guards to make ends meet, saying: "When you add up the number of people who have lost their jobs, you are talking about an awful lot of people. If that had happened in any other industry there would be an absolute outcry.
"If you want to see the economy improve, you must have a good construction industry, but it seems governments are happy to sit back and watch it disappear."
Collapse Timeline:
UBC Group
, May 2012
WJ Harte, Jan 2012
R&D Construction
, April 2011
ROK
, Nov 2010
Connaught
, Sep 2010
Clachan Construction
, July 2010
Hunter & Clark
, June 2010
John Dickie Homes
, May 2010
Chard
, Feb 2010
Kenmore Property Group
, Nov 2009
Mountgrange
, March 2009
Duncarse Developments
, Nov 2008
Anderson Homes
, Oct 2008
Back to May 2012