Collective unveil Easterhouse wall mural
May 1 2012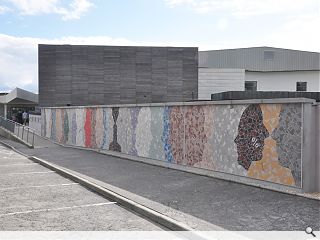 Collective Architecture in collaboration with visual artist Alex Frost have unveiled The New Easterhouse Mosaic, a 25m long artwork adorning the Platform Arts Centre.
Commissioned by the Centre and Glasgow School of Art the piece was inspired by the Easterhouse Mosaic, a 1980s piece created by the local community, and involved the installation of 600 mosaic panels.
These were manufactured off site and applied using a mixture of old and new mosaic techniques.
In a statement Collective Architecture said: "Alex Frost's explorations of drawing and sculpture engage with both handmade processes and technological schema. He contradicts the over familiarity of logos and brand identities of consumer products related to technology by using them as repeated motifs rendered in low-fi materials."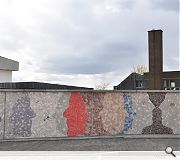 Collective oversaw site remediation work as well as the installation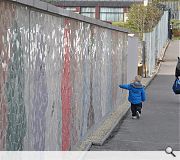 The artwork was created as part of the Glasgow International Festival of Visual Arts
Back to May 2012