Arbroath masterplan drawn up
April 6 2012
The Voigt Partnership have published a 30 year masterplan to reinvigorate Arbroath by focussing anew on the existing town centre.
This calls for the creation of a new square to act as a focal point for residents and visitors, acting as a hub for those seeking access to visitor attractions such as Arbroath Abbey, the marina and Harbour visitor centre.
In addition the practice has identified a further
37 points around the town, including Keptie Pond and the water tower
, which they believe could spread the benefits of regeneration well beyond the historic core.
Other ideas on the drawing board include extending a miniature railway line to the harbour and landscaping the entrypoint to the town from Dundee.
Heinz Voigt, an Arbroath native, said: "We need to attract more investment to the town and the one thing that it doesn't have is a heart.
"There is no direct access to the centre of Arbroath and a town plaza with various points going to the High Street could integrate these areas."
The Voigt Partnership will place their plans on public display within their refurbished offices in the Old Erskine Church on Commerce Street. From there the masterplan will be presented to Angus Council for consideration of adoption into the local plan.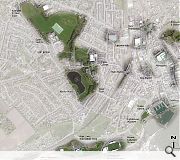 Arbroath was once regarded as the best town in Angus by some- no longer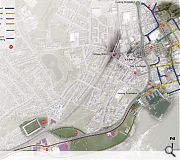 Voight intends to bring the town back to its heyday.
Back to April 2012