Architects shun RIAS over perceived award anomalies
April 6 2012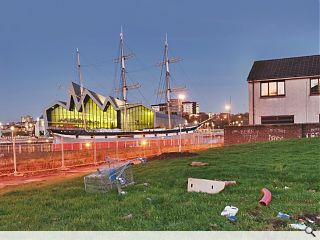 Prima donna architect Zaha Hadid has stirred up a storm of controversy after it emerged that Glasgow's Riverside Museum had – against the protestations of RIBA's Robert Dye, failed to make it onto a
shortlist of 23 at the RIAS Awards
. The result has led a "disappointed" Hadid to join two other (unnamed) practices in refusing to cooperate in the publication of a commemorative booklet intended to recognise all entrants.
The split between RIBA and the RIAS, which saw Dye out voted three to one on the scheme, has been used by Hadid's office to suggest that there may be more to her absence than mere architecture. An allegation vigorously refuted by RIAS Secretary Neil Baxter, who denies influencing the outcome as he merely acted as an "adviser" to the judging process. He told Urban Realm: "If two liked it, it was on. If three didn't it wasn't. We are in a partnership and what others choose to say about the judging process is up to them and perhaps slightly unprofessional."
Nevertheless the expressed incredulity from some quarters has left an air of controversy surrounding the awards in their inaugural year, with people questioning the effectiveness of a judging process conducted around a slideshow. Moreover with RIAS President Sholto Humphries apparently at loggerheads with Dye it would appear it was left to just one layperson and architecture critic Peter Wilson to cast the deciding votes. The latter of which was only drafted in because Wood Award projects, for which he was a principal judge, were only eligible if they first made it onto the main RIAS shortlist.
Questions have also been asked of the criteria used for the judging with, it would seem, a relatively vague notion of "architectural quality" used to determine shortlisted candidates, the loose basis of which only opened the door to subjectivity around the quality (or lack thereof) in submitted presentations. With no indication of where the bar is being set and an unlimited number of shortlisting's possible it begs the question why not shortlist all to avoid any controversy?
Further confusion was added to the mix by making projects entered for the Doolan Award in 2010 or 2011 eligible for a RIAS Award, a decision which meant that projects shortlisted for these were automatically shortlisted for a 2012 RIAS Award - for the obvious necessity of consistency.
Baxter stressed: "The judges review the given, which is a combination of written material, photographs and drawings. We don't ask for a huge amount we ask for five illustrations and one A4 page and from those they choose their shortlist. But they err on the side of generosity on the basis of the givens. So it's the quality of the material that you have in front of you. It's not about any preconceptions, any prior knowledge or experience.
"If the givens are not of sufficient quality to argue the case for visiting a particular building then the building does not get visited. In some cases there are buildings which you know to be bad or indifferent – but the photographs can be stunning with an intelligently argued narrative so we look at those. In other occasions, predictably enough, you get schemes that you know to be good but actually the submission is poor. The photography does not make any case for visiting the building. That is the only fair way to do it.
"The suggestion seems to be that if somebody is famous then you have to go and visit their building - that is certainly unfair. It's about architectural quality and what comes through in the materials we're given in terms of the community involvement and the positive socio-economic effect. It's not necessarily measured in terms of simple visitor numbers or budgets.
"Ironically AJ complained about our generosity last year but this year they seem to want us to be more generous, so we are getting slightly conflicted messages. We didn't shortlist 48 out of 71 schemes. It's quite interesting that everyone mentions the one amongst the 48."
Hadid's misery at being told there are now 23 better buildings in Scotland than the Riverside Museum is compounded by the new 'one stop' submission process adopted by the RIAS. It means that RIBA are now barred from considering Glasgow's new Transport Museum for any further award, creating problems for their members and ensuring that she will remain unrecognised for her most famous work in Scotland.
Image taken by Tom Manley.
Back to April 2012