Scottish Design Awards shortlist revealed
April 4 2012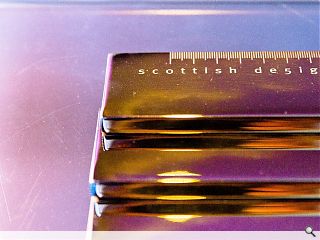 The nominations for the Scottish Design Awards have been announced, spanning graphic design and architecture.
This year's entries were judged by a panel chaired by Jim Heverin of Zaha Hadid who selected a diverse range of finalists including Buro Happold, LDN Architects, Smith Scott Mullan Associates and Harrison Stevenson for projects including Maggie's Gartnavel and the Riverside Museum.
Shaking things up a bit for 2012 is the Contractor of the Year award. Urban Realm asked the industry to submit their nominations for this debut category with the five contractors below garnering the most votes;
Bam
Bovis Lend Lease
Laing O'Rourke
Morgan Sindall
Ogilvie
An industry vote will be held from April 23rd to April 27th to determine who the Contractor of the Year 2012 is. The vote will take place through the
Scottish Design Awards website
. To take part and vote for the contractor you feel deserves this award, make sure you visit the website during this time.
Winners will be announced at the black tie awards ceremony taking place on May 25th at the Glasgow Radisson Blu hotel.
For more information or to book tickets for the event visit the Scottish Design Awards online or contact Kimberley Baran on 0141 559 6078 or email kimberley.baran@carnyx.com
Architecture Nominations by Category
Lighting
NOMINATION
Company: Spiers & Major
Client: Borough of Poole
Title: 'Twin Sails Bridge, Poole'
Interior Design
NOMINATION
Company: CM Design Consultants
Client: Epicures of Hyndland, Glasgow
Title: 'Epicures of Hyndland'
NOMINATION
Company: 442 design
Client: Compass Group
Title: 'Edinburgh Zoo'
NOMINATION
Company: Ian Springford Architects
Client: Apex Hotels
Title: 'Apex Temple Court'
NOMINATION
Company: Kier Construction
Client: South Lanarkshire Council
Title: 'Woodhead Primary School'
Regeneration
NOMINATION
Company: Collective Architecture
Client: Garrion peoples Housing Co-operative
Title: 'Centre Poin, Gowkthraplle'
NOMINATION
Company: Haworth Tompkins & McGregor Bowes
Client: Fruitmarket Gallery (Artworks) / City of Edinburgh Council
Title: 'The Scotsman Steps'
NOMINATION
Company: Hypostyle Architects
Client: Whiteinch & Scotstoun Housing Association
Title: 'Fore Street'
Residential
NOMINATION
Company: Dualchas Building design
Client: Dominic Houlder
Title: 'House at Boreraig'
NOMINATION
Company: cameronwebster architects
Client: Private Client
Title: 'Cape Cove'
NOMINATION
Company: Gareth Hoskins Architecture limited
Client: Private Client
Title: 'Marlaw – private House – Pollokshields, Glasgow'
NOMINATION
Company: GAIA Architects
Client: N/A
Title: 'Plummerswood'
NOMINATION
Company: Dualchas Building Design
Client: Mr and Mrs Monks
Title: 'Church Conversion, Garve'
Affordable Housing
NOMINATION
Company: Collective Architecture
Client: Blochairn Housing Association
Title: 'Blochairn Place'
NOMINATION
Company: Collective Architecture
Client: Fyne Homes
Title: 'The Old Court House, Rothesay'
NOMINATION
Company: Gokay Deveci
Client: Sylvan Stuart Ltd, Timber Engineers and Log Construction
Title: ' Model 'D' House'
NOMINATION
Company: Hypostyle Architects
Client: Whiteinch & Scotstoun Housing Association
Title: 'Fore Street'
NOMINATION
Company: Maryhill Housing Association
Client: Maryhill Housing Association
Title: 'Maryhill Primary School Residential Development'
NOMINATION
Company: Page \ Park
Client: University of Warwick
Title: Bluebell View Student Residences
Leisure / Culture Building or Project
NOMINATION - Leisure
Company: LDN Architects LLP
Client: George Heriot's Trust
Title: 'George Herriot's Sports Hall'
NOMINATION - Leisure
Company: S&P Architects
Client: City of Edinburgh Council
Title: The Royal Commonwealth Pool Edinburgh
NOMINATION - Culture
Company: Page/Park Architects
Client: National Galleries of Scotland
Title: 'Scottish National Portrait Gallery'
NOMINATION - Culture
Company: Gareth Hoskins Architects
Client: National Museums Scotland
Title: National Museums of Scotland Redevelopment
Health Building or Project
No NOMINATIONs
Education Building or Project
NOMINATION
Company: Holmes Miller
Client: South Ayrshire Council
Title: 'Heathfield Primary School'
NOMINATION
Company: jmarchitects
Client: Glasgow City Council Education Services
Title: 'Hillhead Primary School'
NOMINATION
Company: Ingenium Archial
Client: The Vine Trust
Title: 'The Vine Trust Barage'
NOMINATION
Company: Kier Construction
Client: South Lanarkshire Council
Title:'Woodhead Primary School'
NOMINATION
Company: RMJM Scotland Limited
Client: University of the West of Scotland
Title: 'Ayr Campus, University of the West of Scotland'
Commercial/Offices Building or Project
NOMINATION
Company: Cooper Cromar
Client: Clyde Getaway Developments Ltd
Title: 'Eastgate'
NOMINATION
Company: Buro Happold
Client: Wexford City Council
Title: 'Wexford City Council Offices'
NOMINATION
Company: Nicoll Russell Studios
Client: Hillcrest Group
Title: 'New Headquarters for the Hillcrest Group'
NOMINATION
Company: Micheal Laird Architects
Client: Scottish Enterprise
Title: 'Plot 9, Edinburgh BioQuarter for Scottish Enterprise'
Retail Building or Project
NO ENTRIES
Public Building
NOMINATION
Company: Avanti Architects
Client: NHS Greater Glasgow and Clyde
Title: 'Barrhead Health and Care Centre'
NOMINATION
Company: BDP
Client: West Lothian Council
Title: Bathgate Partnership Centre
NOMINATION
Company: Cooper Cromar
Title: Clydesmill Community Fire Station
NOMINATION
Company: S&P Architects
Client: City of Edinburgh Council
Title: The Royal Commonwealth Pool Edinburgh
Proposed Building/ Project
NOMINATION
Company: Buro Happold
Client: City Garden Project
Title: 'Aberdeen City Garden Project '
NOMINATION
Company: Atkins
Client: Network Rail
Title: 'Dalmarnock Station'
Re-use of a Listed Building
NOMINATION
Company: Holmes Miller
Client: Aberdeen City Council
Title: Marischal College
NOMINATION
Company: Malcolm Fraser Architects Ltd
Client: Thirza Wilson
Title: 'Linlithgow Burgh Halls'
NOMINATION
Company: Page/Park Architects
Client: Archdiocese of Glasgow
Title: 'St Andrew's Cathedral'
NOMINATION
Company: S&P Architects
Client: City of Edinburgh Council
Title: 'The Royal Commonwealth Pool Edinburgh'
NOMINATION
Company: Company: JFS Architects LLP
Client: Morton Properties (Dundee) Limited
Title: Aystree House, Gate-Lodge & Stables
NOMINATION
Company: Maryhill Housing Association
Client: Maryhill Housing Association
Title: 'Maryhill Primary School Residential Development'
NOMINATION
Company: jmarchitects
Client: Maryhill Burgh Halls Trust
Title: 'Maryhill Burgh Halls'
Low Cost Project
NOMINATION
Company: Gokay Deveci
Client: Sylvan Stuart Ltd. Timber Engineers and Log Construction
Title: 'Model 'D' House'
NOMINATION
Company: Icosis Architects
Client: TRACKS / Scottish National Heritage
Title: 'Loch Leven Bird Hide'
Student Architecture
NOMINATION
Company: Agnieszka Zagorska
Client: N/A
Title: 'Unknown'
NOMINATION
Company: Jurij Vanostalavista
Client: N/A
Title: 'Hospice at the Edge of Glasgow Green'
NOMINATION
Company: Colin Blair
Client: N/A
Title: 'Kelvin grove Park Hospice'
Engineering Design
NOMINATION
Company: Buro Happold
Client: Glasgow Life
Title: 'Riverside Museum'
Public Realm/Landscaping
NOMINATION
Company: Harrison Stevens
Client: West Dunbartonshire Council/Clydebank re-built
Title: 'South Canal Bank, Clydebank'
NOMINATION
Company: Smith Scott Mullan Associates
Client: Dumfries and Galloway Council
Title: 'Castle Square, Stranrear'
NOMINATION
Company: Harrison Stevens
Client: Maggie's Cancer Care Centres
Title: 'Maggie's Gartnavel'
Place Making / Master Planning
NOMINATION
Company: ERZ Limited
Client: NVA
Title: 'Kilmahew / St Peters'
NOMINATION
Company: Collective Architecture
Client: Glasgow & Clydevalley Green
Title: '7 Lochs (Gartlock Gartcosh)'
Future Buildings
No Entries
Sustainable Design
NOMINATION
Company: Ingerium Archial Ltd
Client: Fife Council
Title: 'Carnegie primary School'
NOMINATION
Company: Sheppard Robson
Client: Edinburgh University
Title: 'Scottish Centre for Regenerative Medicine'
NOMINATION
Company: Nicoll Russell Studios
Client: Hillcrest Group
Title: 'New Headquarters for Hillcrest Group'
Back to April 2012